Home
➟ Excel to vCard Converter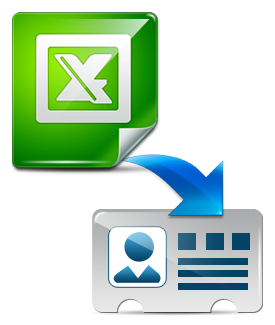 Excel to vCard Converter
Excel to vCard Converter Program is specially developed to import conact list from excel file to your mobile devices. Software converts all contact information from excel file to VCF file format.
➤ Excel to VCF Converter Software supports batch conversion of contacts stored in excel file into vCard file format.
➤ Excel to vCard Program converts contacts list from excel to .VCF files and these converted files can also be imported in the address book of your email accounts such as Gmail, Yahoo etc.

Software Features:
Excel to VCF Converter Tool helps user to import contacts from Excel to your different mobile phones including iPhone, PDA, smart phone and different operating systems.
Software provides option to skip empty rows and columns in your excel sheets before conversion process.
Program has feature to convert multiple contacts from excel sheet into single vCard file or multiple vCard (.vcf) files.
Excel to vCard Converter Software can convert all contacts saved in excel into vCard for various social networking websites such as Google+, Facebook, Twitter, Linkedin etc.

Related Links for: Excel to vCard Converter