Home
➟ ID Cards Maker - Corporate Edition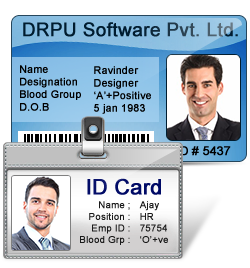 ID Cards Maker - Corporate Edition
ID Cards Maker - Corporate Edition creates all types of ID cards including student identity cards, employee ID cards, security guard ID cards etc. Software provides Gate Pass mode to quickly create visitor ID Gate Pass in just few clicks. You can send designed ID cards at specified email IDs using email-settings.
➤ Software provides Image Cropping Tool to crop images for ID cards if required.

Software Features:
Software has various pre-defined ID Card Design samples (templates) to create ID cards.
Using Live Group and Batch Processing Mode you can generate ID cards for group of people using excel file data.
You can save designed ID card log for future reference.
Software has option to export or save designed ID card as image, as template and as PDF file format.
You can add visitor details to the database while designing visitor ID card.
To add photo on ID card you can take picture using Camera option or you can also browse location of saved image.
Generate multiple ID cards using batch processing series generating feature of software.
To design ID cards, software provides various designing objects including line, text, rectangle, triangle, symbols, signature, barcode, watermark, card background, images etc.

Related Links for: ID Cards Maker - Corporate Edition