Home
➟ ID Cards Maker Software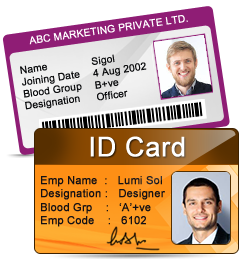 ID Cards Maker Software
ID Cards Maker Software is useful for creating list of ID cards using excel file data. For designing identity cards, ID Cards Designer Tool provides various image designing tools such as text, line, rectangle, triangle, ellipse, symbols, images, signature, barcode, watermark etc.
➤ Software provides flexible print settings to print designed student ID cards, visitor ID cards, employees ID cards and other similar identity cards.

Software Features:
ID Cards Designer Tool provides various pre-defined templates (ID Card Design samples) with different card backgrounds.
Generate ID cards in various shapes including rectangle, rounded rectangle, and ellipse shapes.
Using batch processing series generating option of software, you can create multiple ID cards.
Software provides option to save designed ID card log for future reference.
Send designed ID cards to single or multiple email addresses using advanced email settings available in software.
You can export or save designed ID card as image, as template and as PDF file format.

Related Links for: ID Cards Maker Software