Home
➟ MSSQL to MySQL Database Converter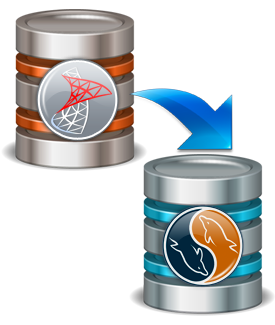 MSSQL to MySQL Database Converter
MS SQL to MySQL Database Converter Software converts database records of MSSQL format to MySQL database server format. Database software can convert table definitions, views as well as stored procedure.
➤ You can connect your database on local host as well as on remote location. Database conversion utility overwrites converted database contents of MSSQL with already existing MySQL database or saves converted database records at new location.

Software Features:
MSSQL database to MySQL database software converts table definitions.
DB converter utility facilitates users to convert stored procedure.
Software also enable user to convert views.
Database converter software provides option to skip conversion of indexes.
Support default value, primary key, unique key, entities and attributes.
User friendly software supports all data types and attributes of MSSQL server.
Software provides safe database conversion and maintains database integrity.

Related Links for: MSSQL to MySQL Database Converter