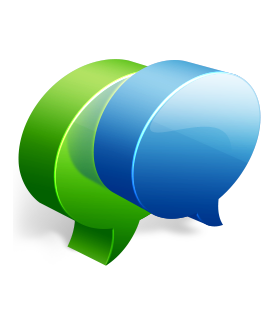 Live Chat Software
Online chat tool allows your customer support executives to communicate with website visitors or customers for solving instant queries regarding your products and services in real time.
Live chat software is a customer service and sales tool for your website that enables your website visitors to instantly communicate with your website support operator anytime and anywhere around the world.

Software Features:
Provide facility to send Live chat session details to visitors specified email address.
Operator can view visitor details including visitor name, IP address, Department name, Arrival time and date, Company name, Browser type etc.
Easily send canned messages and Push URLs for quickly assist online visitor.
Facilitate to handle multiple visitors simultaneously.
Provide "chat history" tab that shows all your chatting history details including the chat time and date.
Provides backup and restore facility of chat history.
Block selected IP address to avoid chatting from mischievous visitors or the visitors you wish not to assist.
Facility to send offline messages in case the website support agent is offline or not available.

Related Links for: Live Chat Software